Something Stupid
Y'know what? I've been doing a lot of serious thinking about weighty issues these days and I'm feeling a bit burned out on politics. So here's the meme of four, feel free to participate.
Four jobs you've had in your life
: Navy officer, waiter, grocery store bag boy, country club golf caddy (I can't play golf,
at all
).
Four movies you could watch over and over
: Fight Club, American Beauty, any Indiana Jones movie (even Temple of Doom!), Mister Roberts.
Four places you've lived
: Jacksonville, Florida; Yokosuka, Japan; Minneapolis, Minnesota; and Newport, Rhode Island.
Four TV shows you love to watch
: Smallville (I'm so embarrassed), Firefly (I have it on DVD, but sometimes it's on Sci Fi!), Dead Like Me (also cancelled *sigh*), I'm also just starting to get into Lost.
Four places you've been on vacation
: Saipan, Rio De Janeiro, Hong Kong and Ogunquit, Maine.
Four websites you visit daily
:
Powerline
,
Sailor Bob
,
Drudge Report
and
Michelle Malkin
(along with dozens of others, by the way - see the blogroll)
Four of your favorite foods
: Pork Chops Marsala, German Chocolate Cake, Steamed Broccoli, Newport Storm Hurricane Amber Ale (beer is food, right?)
Four places you'd rather be
: Minneapolis, Key West, Saipan, Australia. Anywhere in Australia.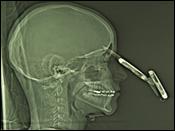 Here's a typical boy scout, I swear
. I'm an Eagle Scout and spent all my formative years in Scouting, and frankly, I am not surprised. The only thing that would have been less surprising would've been him setting fire to himself. That said, I'm really looking forward to getting my son into Scouting someday!
There's a great analysis of
the South America situation and the implication of Eva Morales here
. I may or may not post on it myself - it interests me, but I'm not yet smart enough on it to form my own opinion.